Hey everyone! I thought I would update you on a few odds and ends!
First: The closet is coming along nicely. Slowly but nicely. I don't have enough time in the morning. But the shelf is installed and there is nothing on the dresser. It looks so much better already!
You should go check out Michelle's blog and join her link party!
Third: I have made my own button, on the sidebar for anyone who wants it!! Isn't it pretty?! Plain, but pretty.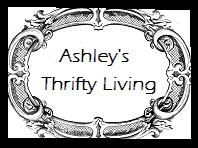 Fourth: If I started a blog party would anyone link up their projects?!!
And finally the Fifth point of interest: The Borrowed Abode was kind enough to feature the home we rent! She asked if it was ok, and sent me a few questions to answer too! You can go check out the amazing feature here! Thank you so much Jane!! (And you should go check out her blog too! She also rents a home, and her blog features rental-friendly decor and DIY inspiration for everyone!!)